What is ATM/counter deposit?
ATM/counter is a method of depositing funds. The user obtains the bank payee information of Space Securities Limited, transfers the funds to the receiving bank account offline through the ATM or at the bank counter, and then takes a photo of the transfer certificate and uploads it.
Tips:
Only applicable to Hong Kong bank counters and ATMs
The name of the bank account used for transfer must be the same as the name of the securities account. It is not allowed to use another bank account for transfer, otherwise the refund fee will be borne by the customer
It takes a certain amount of time to process the remittance application in the inter-bank background. The bank's notification of "remittance" does not mean that Space Securities Limited has received the money. After the funds arrive at Space Securities Limited, the settlement and approval of the funds are required. Banks and Space Securities Limited do not handle remittances during Hong Kong public holidays, please allow time for remittance processing
Direct cash deposit is not currently accepted
ATM/counter transfer
The user deposits funds through ATM/counter to the bank account of the securities receiving bank, and please keep the screenshot of the remittance certificate when the remittance is completed.
Beneficiary Bank:
Name of beneficiary bank: 012 Bank of China (Hong Kong) Limited
Name of Payee: Space Securities Limited
Hong Kong dollar account number: 012-884-0-013383-1
Payee address: BANK OF CHINA TOWER, 1 GARDEN ROAD, CENTRAL, HONG KONG
Swift code for collection line: BKCHHKHHXXX
Keep a screenshot of the remittance voucher
Example of ATM transfer voucher: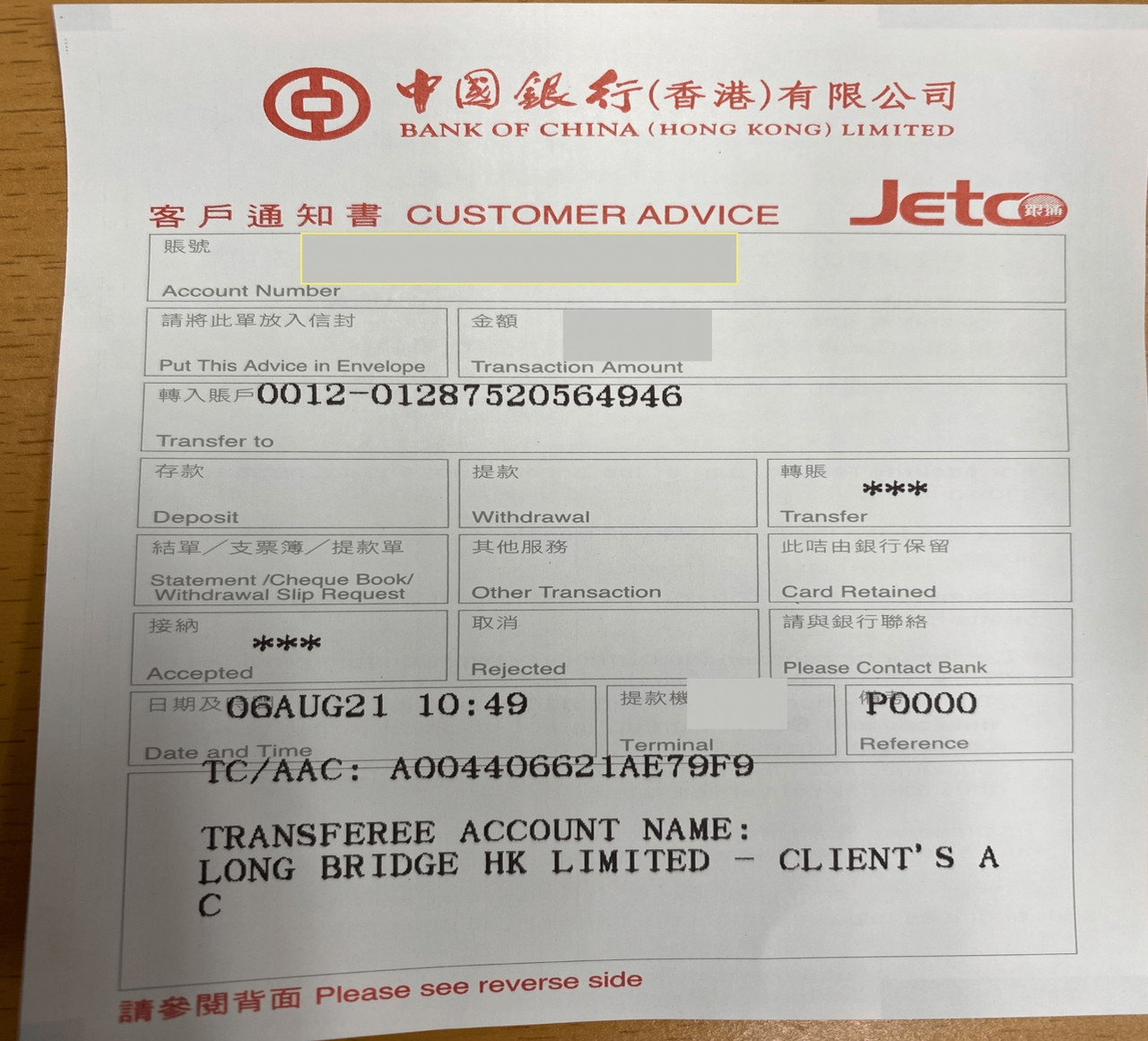 Example of bank counter transfer voucher: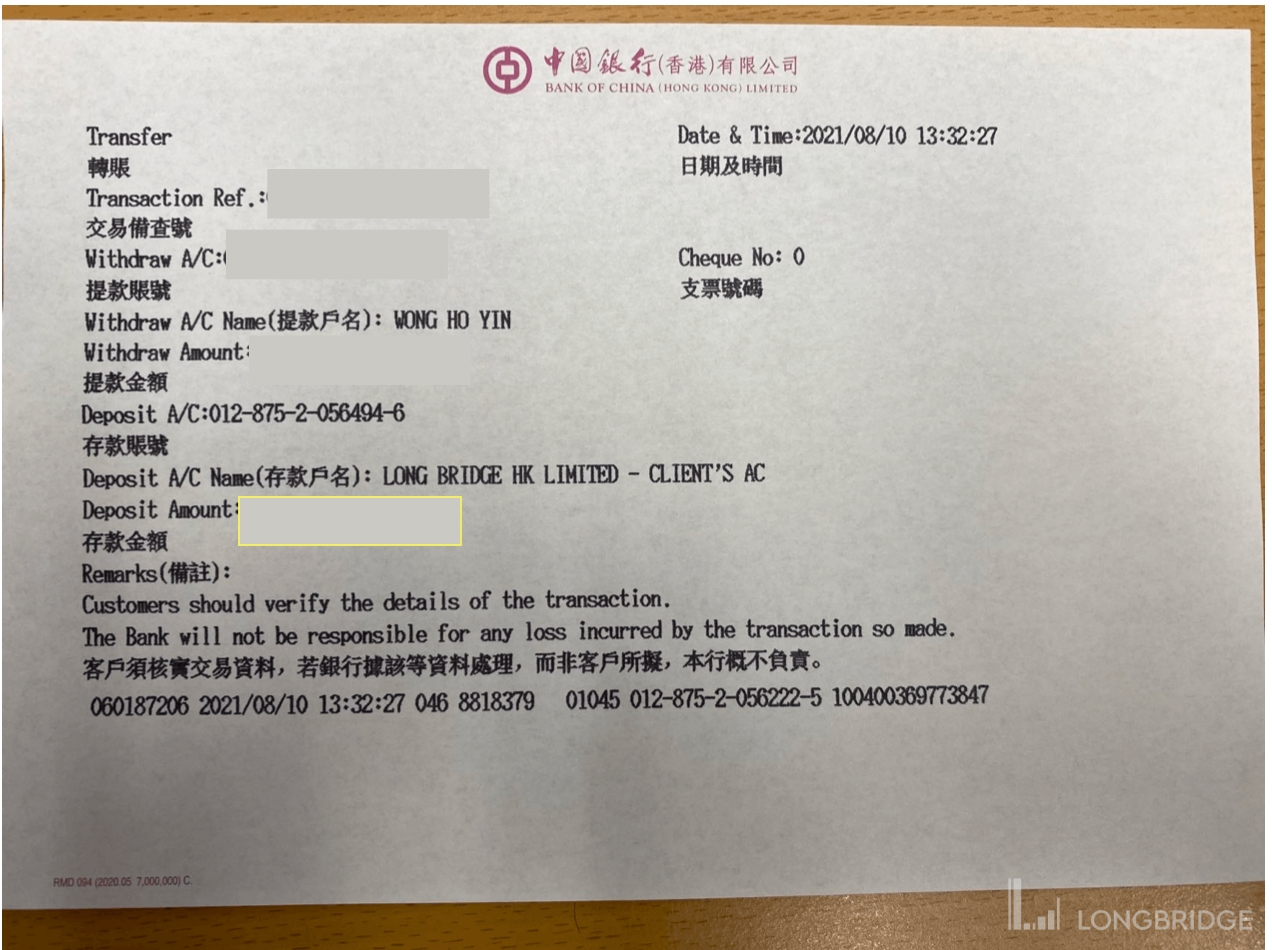 Upload the transfer and remittance voucher
After completing the transfer, please upload a screenshot of the transfer certificate in the Space Securities Limited App immediately, otherwise it will affect the progress of the deposit.
Steps:
Open the Golden Bull App and enter the [Assets - Deposit Funds] module.
After selecting the deposit currency and bank information, select ATM/counter transfer, and upload the remittance transfer voucher
Arrival time and fees
(1) Arrival time
Hong Kong peer-to-peer transfers will arrive in the account within 2 hours at the fastest. For inter-bank transfers in Hong Kong, it is estimated that it will take 1-3 working days to arrive. The exact time is subject to the bank.
(2) Transfer fees
Please refer to the actual fees charged by the bank. Space Securities Limited does not charge any fees.
Disclaimer
The above guide screenshots are shared by users and are for reference only. If there are any discrepancies in the screenshot interface, the actual interface of the bank shall prevail. Please confirm the filling content with the bank. Space Securities Limited is not responsible for any loss caused by this guideline.